28th May 2021
From greater integration of healthtech to its five key subsectors, we've read the latest Dealroom report on healthtech so you don't have to.
Healthtech has never been so top-of-mind. 2020 was a record year for the sector in Europe, with some hefty funding rounds and many telemedicine and digital diagnostics startups seeing huge jumps in user numbers. Investment into healthtech also jumped up by $750m from the previous year.
The digitisation of healthcare is accelerating fast — and it's needed.
According to a new report released today by Dealroom, Inkef Capital and MTIP, an ageing population and technological shifts laid the foundations for this process — Covid-19 simply accelerated it. Over the next two years, we'll see industry-wide shifts that make new regulations permanent, increased focus on value-based and virtual care — and persistent and significant investment in healthtech.
But now that patients are beginning to trust remote healthcare, regulators and traditionally conservative healthcare providers also need to seriously embrace digitisation.
So let's dig in. From AI drug discovery to telemedicine, what will 2021 and the near future bring for the global industry currently worth a whopping $8tn?
European healthtechs will get more and more valuable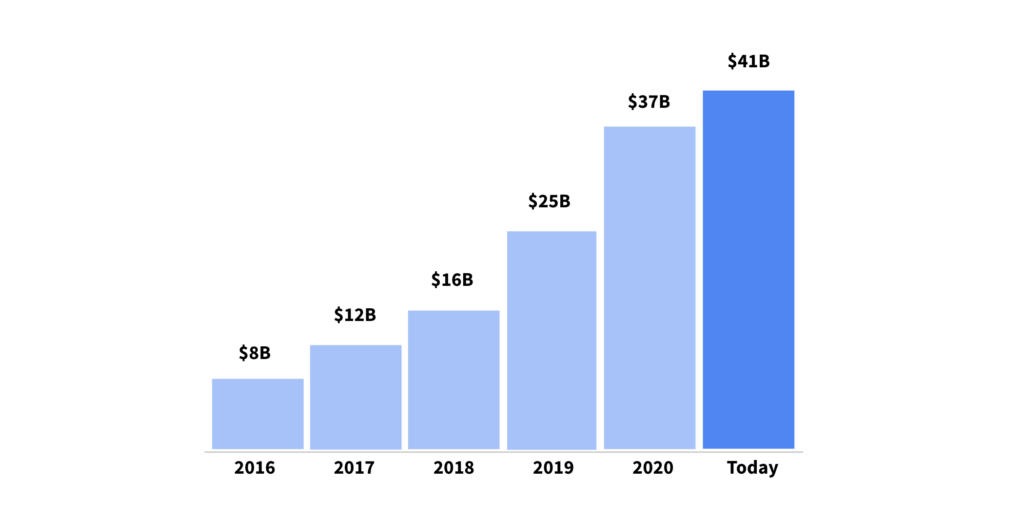 The combined value of Europe-based healthtechs has grown over 6x from 2016 to 2021 — from $8bn to $41bn. This shift was led by telemedicine, operations software and insurtechs.
There are already several big players which have all raised significant amounts of capital, such as UK-based telemedicine giant Babylon Health, Berlin-based insurtech wefox, medical bookings rivals Docplanner and Doctolib, French insurtech Alan and Swedish digital health leader Kry.
There's potential for continued growth in these areas, but we might also see a boom in digital therapeutics startups like MindMaze (which builds interfaces for neurorehabilitation), and home testing businesses like Bloom Diagnostics (at-home blood test kits) and Binx, which provides Covid-19 PCR tests for airline Virgin Atlantic.
It's also worth keeping an eye on startups working at the intersection of biopharma and healthtech, like AI giant DeepMind (acquired by Google in 2014), Healx, which specialises in rare disease treatments and digital therapeutics company Kaia Health.
VCs will look way beyond telehealth
Many of Europe's best-known VCs have invested in healthtech, from LocalGlobe, Hoxton Ventures, Kima, Seedcamp and Northzone at the early-stages through to Kinnevik and Draper Esprit at the growth stage.
While VCs have so far invested most in telemedicine, they're increasingly interested in digital therapeutics and AI-based clinical decision support.
The European market is worth $41bn, but the US and Asia are still winning out
While Europe's healthtech industry is growing, it's not growing as fast as in Asia and the US. In Europe, where the population is fragmented, and the startup ecosystem is more decentralised as a whole, regulation is the biggest barrier for emerging healthtechs.
We'll see more healthtechs join forces
Many of Europe's healthtech leaders — like Babylon, Kry and Doctolib — are hoping to become the 'one-stop-shop' for healthcare.
For some, this will mean developing new products. In January, French insurtech Alan launched Alan Baby, an app for parents to monitor and discuss healthcare for babies and young children — and it plans to release multiple 'niche' mobile health apps down the line.
But Alan hasn't ruled out acquiring other startups, and is currently screening the market for opportunities, CEO Jean-Charles Samuelian told Sifted. "We are kind of open to build versus buy."
Others have already begun acquiring other players. Sweden's Kry has bought a competitor, Helsa, and psychology apps Enjo and Shim; while HealthHero recently bought the much larger Doctorlink, as well as Qare.
The UK is by far leading in research
The UK remains the European leader in healthtech.
And it's not likely to relinquish that spot anytime soon: the top 12 research institutions in terms of VC investment are based in the UK.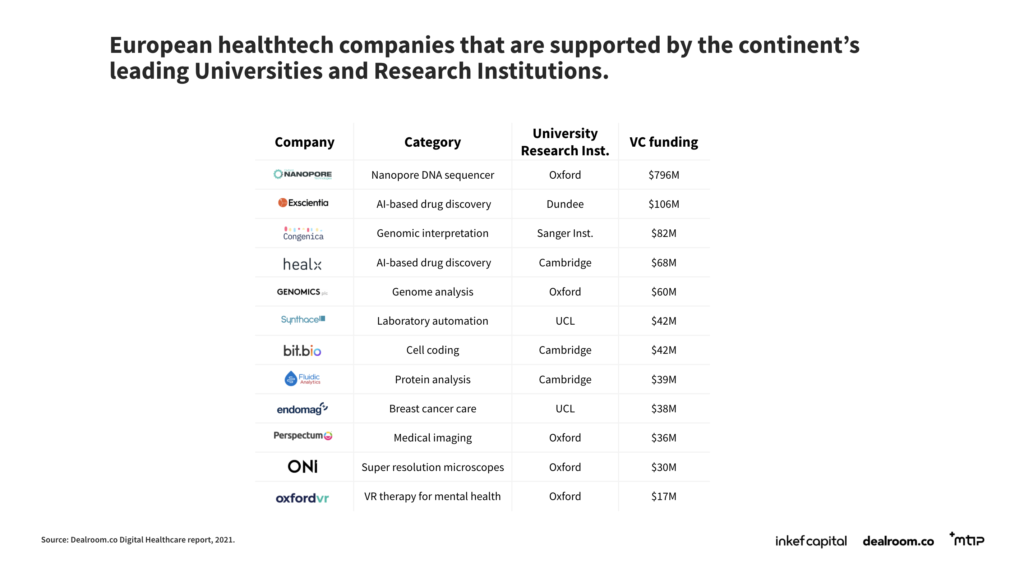 These five subsectors will thrive
So telemedicine clearly made waves in 2020 — which sub-sector is set to boom next?
The report predicts five potential areas:
Continuous monitoring services, which are essential to patient recovery but also insurance and financing (like Withings and Current Health)
Combining diagnostics with treatments (like Oura and Maaind)
Destigmatising areas within femtech, like menstruation and pregnancy (Clue and Elvie). Funding in femtech doubled in the third quarter of 2020.
Shifting away from the hospital to where the patient is (Careology and Cureety)
At-home testing, increasing efficiency and accessibility (Thriva and Binx)